We need your help! If you were a Maker or attended the Second Annual North Little Rock Mini Maker Faire, please take a minute to fill out our survey. Your feedback will help us make next year even more awesome!
We hope you had a great time! Be sure to check out photos of this year's event on Flickr!
The 2016 North Little Rock Mini Maker Faire takes place on Saturday, May 7, 2016 from 10 am to 4 pm at the Arkansas Regional Innovation Hub, 201 East Broadway, North Little Rock, AR 72114. Check out this video from last year's Maker Faire:
The event is outside, rain-or-shine, and open to the public.
WHAT IS IT?
The North Little Rock Mini Maker Faire is a one day exhibition of creative making. Think of North Little Rock Maker Faire as a local version of Maker Faire Bay Area or World Maker Faire New York, two yearly exhibitions organized by Make Magazine. North Little Rock Mini Maker Faire is one of over 100 "mini" faires around the globe, organized by local grassroots makers.
North Little Rock Mini Maker Faire will host exhibitors, vendors, workshop teachers, panelists and performers from around the region. The faire will take place at the Arkansas Regional Innovation Hub, using its indoor space and the adjacent field.
Why Mini?  Why not Maxo-Stupendous? Is it small or for little things?
No, there is nothing small about this event, except for maybe how amazingly small the circuit boards have become which power some of the exhibits. The "mini" in North Little Rock Mini Maker Faire just means that it's a locally-produced event.  Whenever you see "mini," just think uniquely North Little Rock and all of central Arkansas!
Get Involved!
You can be a volunteer! Find out more.
Sponsor the Faire!
Several sponsorship options are available to appeal to both small and large organizations. Find out more.
About Maker Faire:
Maker Faire is the Greatest Show (and Tell) on Earth—a family-friendly showcase of invention, creativity and resourcefulness, and a celebration of the Maker Movement. It's a place where people show what they are making, and share what they are learning.
Makers range from tech enthusiasts to crafters to homesteaders to scientists to garage tinkerers. They are of all ages and backgrounds. The aim of Maker Faire is to entertain, inform, connect and grow this community.

The original Maker Faire event was held in San Mateo, CA and in 2015 celebrated its tenth annual show with some 1100+ makers and 145,000 people in attendance. World Maker Faire New York, the other flagship event, has grown in four years to 600+ makers and 80,000 attendees. Detroit, Kansas City, Atlanta, Milwaukee, Orlando, Pittsburgh, San Diego, Silver Spring, Ottawa, Lisbon, Paris, Rome, Berlin, Newcastle, Hannover, Oslo, Trondheim, Seoul, Singapore, Taipei, Tokyo, and Shenzhen are the home of larger-scale, "featured" Maker Faires. In addition, over 120 community-driven, independently organized Mini Maker Faires are now being produced around the United States and the world—including right here in North Little Rock.
Maker Faire is supported by Make: magazine and Maker Media.
About Make: Magazine: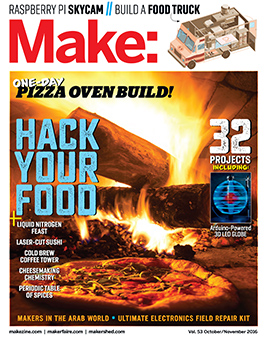 Make: is the first magazine devoted entirely to Do-It-Yourself (DIY) technology projects.
Make: unites, inspires, informs, and entertains a growing community of resourceful people who undertake amazing projects in their backyards, basements, and garages.
Make: celebrates your right to tweak, hack, and bend any technology to your will.
Besides the magazine and the faire, Make:
and Maker Media is:
Fredonia Mini Maker Faire is independently organized and operated under license from Maker Media, Inc.